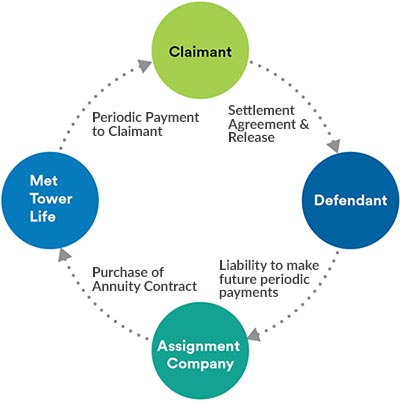 There are 4 types of employment disputes and whether you are an employer or employee you do have rights under your state and federal law. For example:
Wrongful Terminations Allegations
Wage Disputes
Discrimination and Harassment
Severance Agreements
Once a settlement is reached, should you take the lump sum cash? Or, in the form of periodic payments? A combination of both? It's important for you to speak with an advisor to evaluate the choices available to you. These settlement proceeds may be the foundation for your families financial future.
The Non-Qualified Assignment
The Non-Qualified Assignment (NQA) utilizes a Settlement Income Annuity that is guaranteed and can be funded by all or a portion of your settlement. The Settlement Income annuity then provides periodic payments to you, which may be scheduled for various lengths of time — even for life.
Because your needs are unique, you and your broker can tailor an NQA to address your circumstances. The NQA can provide you with the security of preserving your settlement proceeds while providing you with the money you need, when you need it. Plus, the NQA spreads your income tax liability across future years.
Contact Us For More Information